"Camden WWII Veteran is sharing memories of courage and patriotism"-
Article copied from local Camden area newspaper on July 5, 2000.
Back
Bill Giegold doesn't take his freedom lightly. The 80-year-old Camden man (formerly of North Machester, In), a decorated war World War II Veteran, still vividly remembers fighting for that freedom in the battlefields far from home nearly 60 years ago. He can recall the invasion of Normandy with the precision of a seasoned story teller. He remembers the sounds of swooshing bullets as German soldiers drove back allies at Saint Catherine's Hill. He joined other soldiers in capturing "A Bridge Too Far."
Bill holding the wodden case he buit to house the medals he earned.
And he felt the sting of a German bullet at the Battle of the Bulge. "I've fought on every battle front in Europe," he said. Giegold, a national treasure and virtual window into our past, has earned accolades that few others have attained. A paratrooper in the 82nd Airborne Division, 508th Parachute Infantry Regiment, Giegold has earned a Bronze Star for every major European battle in World War II. He was also decorated with the Purple Heart, Occupation of Europe, Good Conduct (although he says it took him two years to earn that one), and Bronze Spearhead medals from the United States and received distinguished awards of honor from France, Belgium and Holland. Those emblems are now secured in a glass and wooden case, displayed on a wall in his home at the Camden-Jackson Housing Complex. Their grandeur is hauntingly overshadowed by two tattered and torn patches-one a U.S. Flag, the other from the 508th, they serve as a testament to the harshness of war.
This is the flag Bill wore on his uniform during his time in Holland and Germany, after Normandy.
Giegold was just a 22-year-old North Manchester, IN poultry farmer when he said good-bye to wife and young daughter, Teena, and answered the call of his country. Giegold left the safety of his homeland on Christmas Day 1943. He had volunteered for the paratroopers because of the extra $50 per month that he could send home to his family. "I didn't even know what a paratrooper was," Giegold said. "My grandson, who is interested in all this, told me that no one expected the paratroopers to succeed, but they did." Giegold said. His wife Alberta recalls sending her husband off to battle. "I always believed he would come back," she said. War wasn't glamorous. Giegold stayed in the crudest of barracks, ate his dinner out of trash cans and fought for his country while suffering the pain of battle wounds. As if it were yesterday, Giegold remembers the cloudy June night that he and 170 paratroopers plummeted from bombers as German infantrymen shot from below. His own plane, riveted by bullets, was spiraling downwards as he jumped. The men landed on French soil some six hours before the official invasion of Normandy began. There was rifle fire, planes falling from the sky. "You've never heard so much ammo in your life," he said. "My heart was pounding so hard I thought people could hear it. Narrowly missing a tree in the orchard in which he landed, Giegold freed himself from his tangled parachute. Hiding in hedge rows from German soldiers patrolling the area, he soon came across a soldier who was merely a kid. His name was Oburn. The two silently crept through the darkness until they came across a farm along a cobblestone lane. Befriended by a compassionate French farmer, the two rested and enjoyed a cognac before running into a few other comrades. It wasn't long until the new alliance destroyed a major power supple before going on their way. Oburn and Giegold trekked towards the ocean hoping to connect with others from their regiment and receive orders. Standing at a crossroads, Oburn went one direction; Giegold the other. They planned to rendezvous in ten short minutes. Upon returning to their meeting place, Giegold waited for his new friend until he heard German voices and saw shadows coming from the path Oburn had taken. He never saw the boy again. Later, Giegold rejoined fellow soldiers, destroying a bus filled with Germans and setting up a command post. "We just shot everything we could," he said. By day's end only 29 of the original 508th were alive.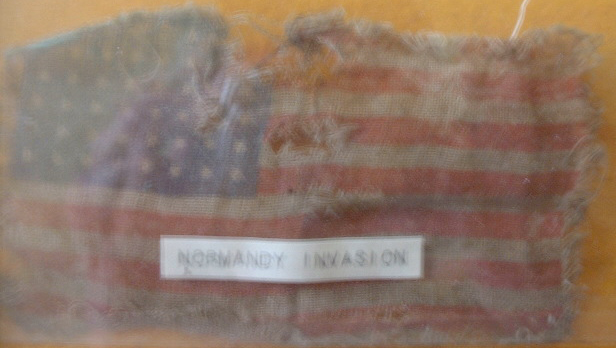 This is the flag Bill wore on his uniform during the Normandy Invasion.
"That was the first day. That's what they call the longest day and that was my longest day." Giegold fought alongside his comrades for 33 days with little food and supplies. Giegold said he saw the true devastation and tragedy of war at St. Catherine's Hill as unprepared and outnumbered allied soldiers were attacked by Germans with tanks and antiaircraft machinery. Although injured, Giegold made it back to the beach where he was transported to England for a short rest. By September 18, 1944 he was fighting in the invasion of Holland. And on December 15, he rode through the night crossing Belgium to fight in the Battle of the Bulge. Wounded during that battle in January, he stayed in a hospital on the battle field's front line. By the time Victory over Europe Day had arrived on June 6, 1945, only 9 paratroopers of the 508th remained. Giegold remembers stepping forward for recognition shortly after the fall or Nuremburg. Seventeen years ago, Giegold returned to Europe at the request of the citizens of Holland. The country chose to honor the men of the 508th with the dedication of a monument. "They fed us and housed us," Giegold said. "They were very appreciative of their freedom." Both Giegold and his wife fear that efforts of soldiers in World War II have been forgotten.
NOTE: The severe wear and tear on the two flag patches should give you a good idea of the hardship of the events that took place.