Recollection of WWII Paratroop Experiences-
Back
Article dictated by Bill taken from 508th P.I.R website notations by Adam Bruner
Seeing the great Normandy battle area in person, where we made history over 50 years ago, is something difficult to describe in words. I'm sure the native French peasants who survived the invasion could enlighten you as to the horrible death and devastation they witnessed during this great battle. If you spoke with them, they could explain better than one could read in a book.
The small town of Saint-Mere-Eglise, believe it or not, was the first town liberated in the invasion. The town was overrun with hundreds of Germans, and the sad part was that some of my F Company buddies landed on the town, were captured before they got out of their parachute harnesses, and were then executed in the town square.
Mr. John Steele, upon his descent, was shot in the foot, and then landed on the church roof in which the steeple snagged his parachute, causing him to be helplessly suspended. The blood flowed out of his foot and down the church wall, convincing the Germans that he was dead, so they didn't shoot at him. In spite of the discomfort, John remained motionless in an effort to "play dead," because of what he saw going on below.
John became very well known for this event. Several years ago, I traveled to Indianapolis to see John, drink free beer with him, reminisce, and to remember the good times, but not the bad. Unfortunately John had just been diagnosed with cancer, and died about a year later, and we lost a great historian of the 508th Parachute Infantry Regiment.
Another paratrooper, Mr. Pat Bogie, from Wisconsin, used to come and visit with me. Pat landed just behind the Saint-Mere-Eglise church crashing through a hen house roof. He said that the chickens made so much noise that he quickly got out of the hen house and escaped between the houses and the various buildings, eventually finding other paratroopers.
Soon after daylight, a horrible attack was made by F, H, and part of E company. Although outnumbered 15-20 to 1, the Germans were defeated at Saint-Mere-Eglise.
My experience began by being transported by a C-47 "Gooney Bird" which entered French airspace from the west side, going between the Jersey and Guernsey Islands. Our destination was to be the outskirts of Picauville, a small village containing a German anti-aircraft installment that I was commanded to take, by setting up a machine gun on the second story of a house. Unfortunately the C-47 took a hit, caught on fire, and was actually falling backwards when I bailed out. Everyone was yelling trying to get out; 1 don't think the crew did.
The many C-47's transporting paratroopers and supplies to be dropped by chute had to travel without lights or radio contact, and this caused them to be spread out and quite mixed up. The paratroopers landed in quite a conglomeration, and for the most part the groups were small, around 30 people for the most part, and were from many different outfits.
I landed in an apple orchard, and I helped one of our young fellows to get out of his harness, which was stuck in an apple tree, he was eventually killed.
We set out for Baupte which was just north of us to cross the Douve River. We did this in wooden boats under the German watch. Eventually they noticed and began shooting at us. Before departing for Beauzeville La Bastille, about two German tanks were destroyed with Gammon grenades by several brave fellas in the group.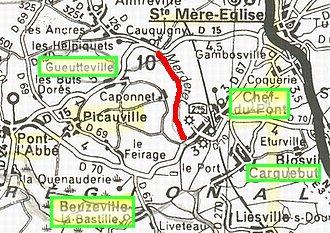 You can see the locations Bill is referring to on this map, with Saint-Mere-Eglise to the North-East.
The battle in Beauzeville La Bastille was fierce. It was simply a vicious battle. Eventually I was recruited by an officer, who chose me and several others by saying "you, you, you, and you" to go to La Haye Du Puits for the taking of Hill 95 and Hill 131, which we did.
There were 200-300 Germans there against our opposing 60 fellows or so, but the shooting was good. It was a bit like prairie dog hunting, as I recall, and we profited from that, but they got about 1/2 of us. The injured guys were put in a barn owned by Mr Phillipe Vasselin, and he helped care for them as well. Finally, after starting the battle for Hill 95 at dawn, we had taken it by 9 a.m. We were then ordered to attack the next objective, Hill 131, but much to my objection. The men were tired and weary, and needed rest. But the Lieutenant made the order.
Notations:
A- (Note: You might recall in the movie "The Longest Day" when a paratrooper played by Red Buttons had this same thing happen to him, that was John.) back
B- (Note: Because of the Germans being defeated in Saint-Mere-Eglise, the 508th PIR was awarded with the French Croix de Guerre.) back
C- (Note: These combined events also led to the 508th PIR receiving the Presidential Unit Citation.)